因【人群中的臉】(Faces in the crowd)無法顯示中文字幕
所以20120926 改放 Indecent Proposal
本次主題: 人的價格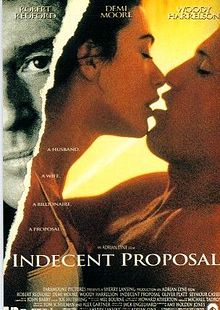 This article is about the film. For the album by Timbaland & Magoo, see Indecent Proposal
ndecent Proposal is a 1993 drama film, based on the novel of the same name by Jack Engelhard. It was directed by Adrian Lyne and stars Robert Redford, Demi Moore, andWoody Harrelson
Plot
Childhood sweethearts David (Woody Harrelson) and Diana Murphy (Demi Moore) are a married couple who travel to Las Vegas, hoping they can win enough money to finance David's fantasy real estate project. They place their money on red in roulette and lose. After gambling away all of their savings, they encounter billionaire John Gage (Robert Redford). Gage is attracted to Diana and offers David one million dollars to spend a night with her. After a difficult night, David and Diana decide to accept the offer, and a contract is signed the next day. Gage flies Diana to a private yacht, and their arrangement is consummated.
Although he had hoped to forget the whole incident, David grows increasingly insecure about his relationship with Diana, consumed with a fear that she remains involved with Gage; this insecurity is heightened by the fact Diana discovers that Gage has bought their home/property while it was going into foreclosure. Because of this tension on their relationship, David and Diana separate. Gage actively persists and renews his advances on Diana. Although she initially resists, Diana eventually consents to spending time with him, and a relationship develops. David, meanwhile, realizes he cannot go on without the love of his life. When Diana files for divorce, David makes one final attempt to win her back by signing the divorce papers and giving the million dollars away. David bares his soul as to why he allowed the night to happen. It is clearly a turning point for both of them.
Gage sees how Diana looks at David and recognizes that, even if she stayed with him, their relationship would never achieve the intensity she had with David. Later in the car with Gage, it is clear Diana has made up her mind to return to David when she says to Gage that they need to talk. Gage, realizing that she longs to return to David, makes up a story that she was only the latest in a long line of "million dollar girls". Diana realizes that Gage is doing this to make it easy for her to leave, thanks Gage and returns to David. Before returning he gives her his lucky coin. On the yacht, he had offered to take her back to David and forgo their deal if she called the coin toss. Gage had won the toss. The lucky coin is revealed to be double sided. She returns to the pier where David proposed, only to find him there waiting. They confess their love for one another, join hands and the film ends.
Cast